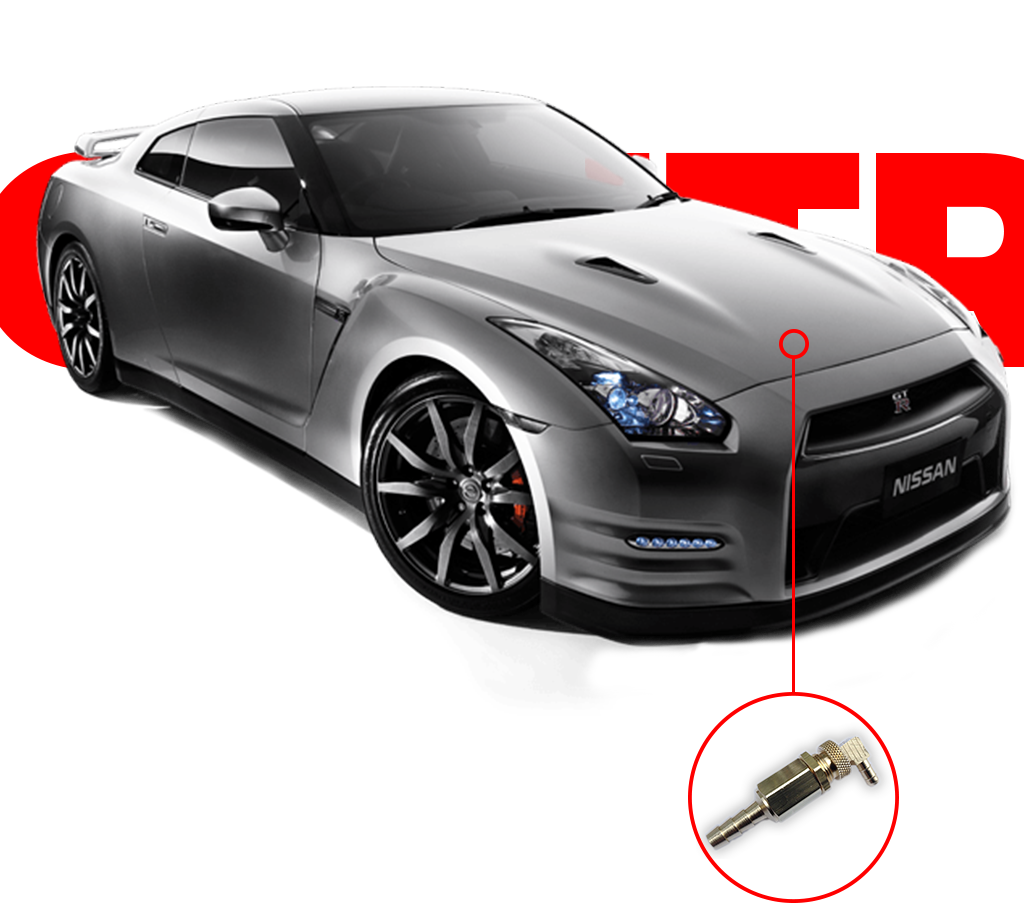 ---
The Dawes Devices
---
MKII Hybrid

Boost
Controller
---

---
has been covered in Sport Compact Car (now SuperStreetOnline) and has been voted the World's Best Boost Controller by The BoostLife.com , as well as countless customers.
The new MKII design maintains the proven mechanism and internal dimensions of the MKI, but in a smaller, lighter package. The HYBRID designation means that we use a low-mass synthetic ball in the mechanism. The use of precision ceramics in a manual boost controller was pioneered by Darren Dawes of Dawes Devices/3 Bar Racing Inc. Combined, these features make for a world conquering design, at a reasonable price. This is not your Daddy's G-Valve!
Click here to buy it directly from Amazon for $49 plus shipping (free shipping if you are a Prime member) or Click here to from our Secure Store (price includes shipping)
---
Read about other controllers
The Dawes Devices Manual Boost Controller for Diesel Trucks

This version of our MKII Hybrid Boost Controller has a heavy spring for applications up to 30 psi (Diesel Truck). It CAN be used on a gasoline vehicle, but you may not be able to adjust it to less than 8 psi.


The fastest reacting boost controller on the market!


Quick Boost Rise for more area under the boost curve and wild mid-range torque!


Updated version of the Original Dawes Device Manual Boost Controller. This is not your Dad's g-valve!


We pioneered the use of synthetic materials in an MBC and have improve !


We've been making the fastest boost controller for over 13 years. Now we've updated it with a smaller, lighter valve body and new synthetics. Precision ground ball seat with custom angles that aren't even available on lesser boost controllers. 100% US made (no cheap Asian copies here), individually tested for 2 weeks, guaranteed for life! Install this boost controller and forget about it, because there is nothing better anywhere, at any price!

Our New Boost Controller Switch allows you to control two boost controllers to make a dual stage system. This switch is fully pneumatic and requires no wiring or power source, making for a fast and simple installation. The toggle switch can be easily mounted in the dash for easy use and used in any of the following ways:

1) Use stage 1 for on-road and stage 2 for racing (use this product with two Manual Boost Controllers).
2) Use stage 1 for launch and switch to the high boost mode (stage 2) once you have traction (use this product with two Manual Boost Controllers).
3) Use stage one for factory boost control and then switch over to your manual boost controller with stage 2 (use this product with one Manual Boost Controller).

All the features that made the original great, in a smaller package!
We used the same internal mechanism, but combined the valve body and fitting into one assembly. The net result is a lighter package, to keep shipping reasonable and pricing low. Plus, we've reduced the fill volume of the valve, which is always desirable for quick reaction of the boost controller. You can expect the same performance as the original TDI controller, in a smaller space.

Our MK II TDI is a boost controller with specific capabilities and fittings for the VAG TDi and Nissan Patrol Engine uses our new, Heavy Duty Spring.

Applications: All VAG TDi and Nissan Patrol applications w/VNT (non-VNT may use our Basic Boost Controller)
Purpose: To provide an inexpensive way to control boost fluctuations on the VNT engine.

The Dawes Devices FCE (Fuel Cut Eliminator) , eliminates the factory Fuel Cut on vehicles equipped with a MAP sensor.
The signal to the MAP sensor is unaltered until the cut-out point is reached, for full use of the factory fuel supply. Needed when you have raised the boost so high, the factory ECU is inhibiting your progress.

A.K.A. Fuel Cut Defencer/Cut-Out Raise

The Dawes Devices Multi-Boost Control System is a True Dual Stage Boost Controllerthat can be used with one or two of our boost controllers, to build a system that lets you switch between two boost levels.
Maybe you have one level for around town and another for racing/off-road. Or, maybe one for street gasoline (petrol) and another for race fuel.
Either way, the MBCS is an inexpensive way to build the ultimate boost control. It may be used with any of our boost controllers, including the Nissan Patrol variants.

All domestic and INTERNATIONAL customers can now purchase directly from our online store, with FREE shipping up to 10lbs *
Each MBCS kit includes:


High Quality 12v Solenoid Valve, with brass fittings and installed tee


30 inches of Premium Silicone Hose


Extra Brass Tee for making vacuum hose connections


ty raps for securing hoses


*The 10 lb restriction is for people that will order 50 controllers at once. If you are outfitting one or two vehicles, you'll be able to order everything you need, including accessories and it will be under 10 lbs.
Customer Reviews of the Dawes Device
Hi , I just thought I would send feedback about the manual boost controller I purchased from your company and wanted to comment that it is a great mod for my

Evo

7rs. As a mature owner I have had the car for several years and done the usual mods like race spec brake pads ,dump + exhaust & suspension upgrade , But I was looking to get a little more out of a responsive engine with out going "HP mad" ,as I am mere mortal I wanted to be able to actually use the available power, so from a 15psi base measurement I gradually increased it to18psi . That has given me the torque I was seeking with the obvious HP gain to complement what I feel is a good package . Your product lived up to it's claim & helped me unlock some of more of this cars potential & as a bonus is good value for money ,so you can add me to the satisfied customer list . I might note I appreciate the additional items for my water injection project which is next on the list so thanks & keep up the good work. Greg McArthur

I've always enjoyed rummaging around your website and find it perfectly adequate to my needs. Although there are many clones of your original ball and spring Dawes Device, I still keep the faith with your brass ones. One in my Coupe 20VT and two for eventual fitting with the recent dual-path valve addition, to my Coupe 16VT engined Punto Mark 1 GT.Tim C.

Very happy with performance. Have fitted to 2002 Nissan Patrol 3Lt Di and set to 16.5 pounds. Putting another vehicle on road and will buy again.

Here at my shop we convert Vanagons to Turbo Diesel engines. The Dawes Device makes using a reliable VNT turbo easy. Thanks!

Personally I am not a review writer however when the 3bar racing Dawes valves were fitted to our 2003 Nissan patrol 3.0 zd30 yep the grenade engine, wow what a difference not just only in overall performance the turbo boost was stablised it's a different 4×4 now. I would think if company's like Nissan ect take the time to utlise the expertise of the guys at 3 bar racing a lot problems can be avoided and build a relationship with 3bar racing with further tuning out of the factory. I hope to see 3 bar racing logos sitting beside nismo ect. Guys keep doing what you do.

Perfect device, inexpensive, easy to install and to adjust, works as expected even in harsh conditions (offroad rallies).

I have two Dawes Valves on my Nissan Patrol Common Rail Diesel. The first limits the boost pressure to 16 psi for normal running, I also use one, switched by a Dawes electric solenoid, that limits boost to 8 psi for long distance cruising, It saves me about 2 litres per 100KM!

The Dawes Boost Controller valve that we have fitted to my 02 3.0 lt Nissan Patrol wagon has removed all the over boosting issues we had and definatley saved the motor from self destruction I highly recomend a Dawes Boost Controler for this application

Driving a Nissan patrol with the ZD30 motor ( grenade) I fitted a Dawes manual boost controller and a needle valve. The Dawes device has enabled me to control my boost . I have had it fitted now for 4 years and have never needed to adjust it. Great service great device. Would recommend to anyone who needs to control their boost.
---
Prices include shipping cost
Buy right from our Secure Store
---
---


---